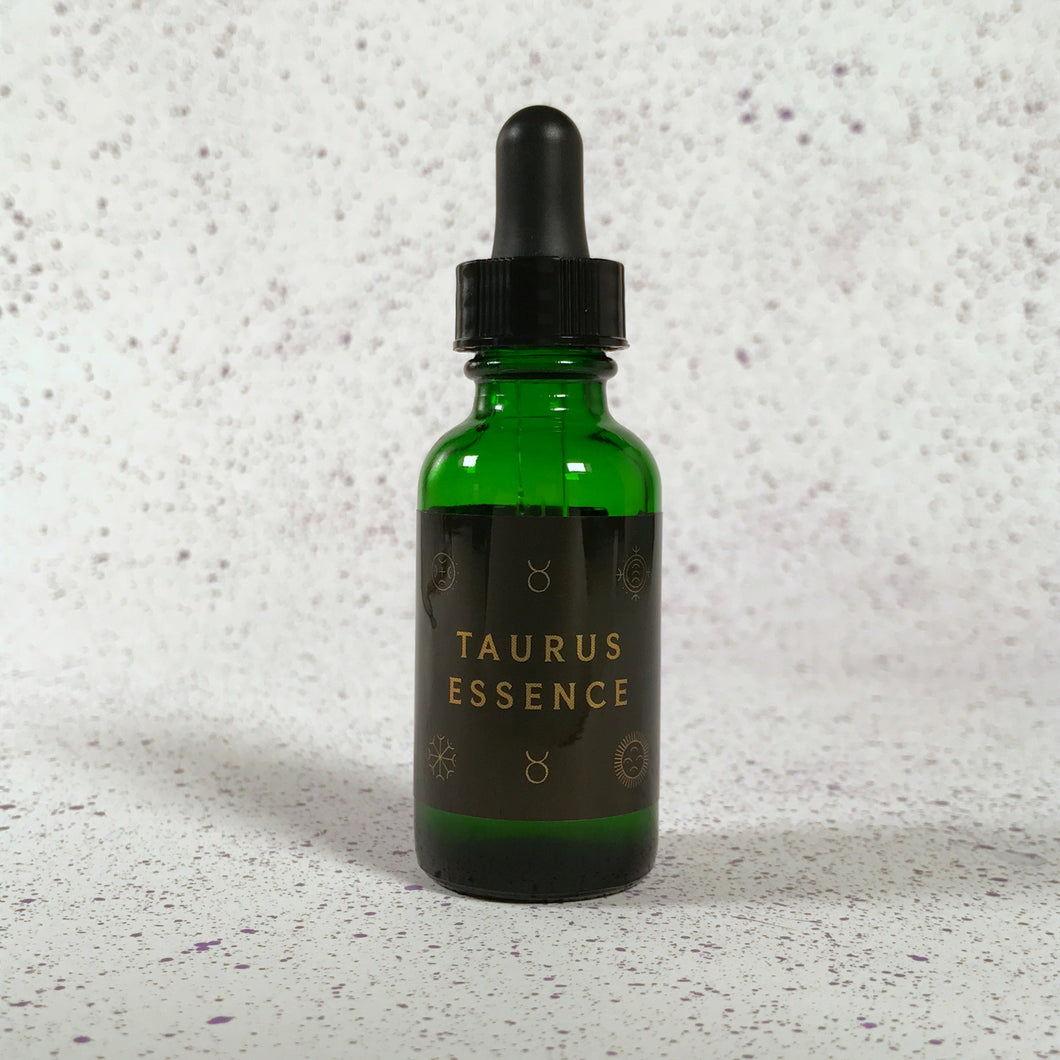 Taurus Essence
Regular price $18.00 Sale
An essence that captures Taurus vibes. Take this essence when you want to balance and support the qualities of Taurus-- patience, stability, sensuality, reliability and ambition. 
Taurus: April 20-May 20
Contains: Essences of almond, bleeding heart, coconut, glacier river, lapis lazuli, trillium and wild rhubarb in Buhl water, slivovitz and brandy with MN honey.
Almond essence alleviates sexual excesses or overindulgence in food. It helps with moderation and self-discipline.
Bleeding heart encourages emotional freedom without needing to form relationships based on fear or possessiveness. It assists the broken-hearted and keeps the heart open and moves you toward unconditional love.
Coconut is uplifting, and increases endurance and more easily overcomes barriers. It boosts energy and amplifies the motivation for completing tasks. It helps with facing obstacles with willingness, perseverance and self-discipline.
Glacier river environmental essence washes away attachments to what has been before. Made from the water of an Alaskan glacier with rock particles eroded by its passage, this essence demands that Taurus goes with the flow of change. 
Lapis lazuli gem essence promotes clear communications in an articulate manner, and stimulates expression for shy Taureans. This essence helps you work through feeling fixed in your ways, hanging on to people and old thinking or finding it difficult to move on. 
Trillium essence focuses its energy on healing any obsession with the material world, by creating an awareness of spirituality. It soothes the imbalances of fear and uncertainty, which can lead to a preoccupation with material possessions in an attempt to create security.
Wild rhubarb essence breaks up stagnant mental patterns and allows your mind to be open to new plans, ideas and solutions. It encourages a flow of energy between the mind and the heart, and it relaxes the mind so that it is able to respond to deep inner guidance. 
Buhl water is the finest water on the Iron Range, which is in northern Minnesota, on unceded Anishinaabe (Ojibwa) land. It comes from a glacial aquifer located 700 feet deep, encased in 300 feet of solid granite. It is bacteriologically free (the water isn't treated) and contains no chlorination. It has never been contaminated by any of the 42 human-made elements, such as insecticides, pesticides and herbicides. 
1oz in a glass bottle with dropper. Take drops as needed under your tongue, or in water, or on your skin or on your pillow.