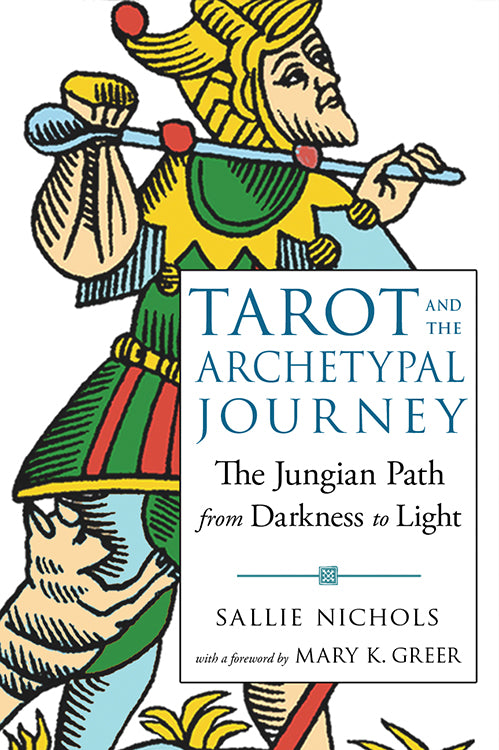 Tarot and the Archetypal Journey: The Jungian Path from Darkness to Light
Regular price $26.95 Sale
"Two great traditions are wedded in this work: the irrepressible and magical Tarot and Jung's archetypal psychology. This wedding, long overdue, is achieved not only through the wit and wisdom of Sallie Nichols, but through her obvious love and care for the images of Tarot. The result is a superb and significant volume that will become food for critical minds and a most welcome elixir for souls thirsting for draughts of substance. Anyone with the remotest interest or fascination with the power of the image to move the psyche will find in Sallie Nichols' book, just that: a journey into that realm where the image, the psyche and the soul find their source and their goal." —Russell A. Lockhart, Ph.D., Jungian analyst and Book Commentary Editor of

 

Psychological Perspectives

"Sallie Nichols has returned the Tarot to modern dignity. Being completely scientific in her approach to this old card game, she reveals its depth, its symbolic meaning, and its wisdom. Her comprehensive knowledge of the Tarot and Jung's psychology make this a rewarding and delightful book." —James Kirsch, M.D., Senior Analyst and Founding Member of the C.G. Jung Institute, Los Angeles, author of

 

Shakespeare's Royal Self
This highly innovative work presents a piercing interpretation of the tarot in terms of Jungian psychology. Through analogies to the humanities, mythology, and the graphic arts, the significance of the cards is related to personal growth and what Jung termed "individuation." The Major Arcana becomes a map of life, and the hero's journey becomes something that each individual can relate to one's personal life.
"Sallie Nichols, in her profound investigation of the Tarot has performed an immense service. Her book enriches and helps us to understand the awesome responsibilities laid upon consciousness. She has done this not in an arid fashion but derived from her own experience of the Tarot and its strangely translucent lights. As a result her book not only lives but quickens life in whomever it touches." —Laurens van der Post
Sallie Nichols

 

(1908–1982) was a teacher at the C. G. Jung Institute, Los Angeles, and a frequent lecturer at Jungian organizations throughout California. A longtime student of Jung's psychology, she had the good fortune to study at the C. G. Jung Institute in Zurich, Switzerland, while Jung was still alive and active.
     

 
Mary K. Greer

 

is a Grandmaster of the American Tarot Association and teaches workshops and classes on Tarot and astrology throughout the U.S. and abroad. She is the author of several books, including

 

21 Ways to Read a Tarot Card

 

and

 

Tarot for Your Self. This book is a revision of Mary Greer's

 

Tarot Constellations.