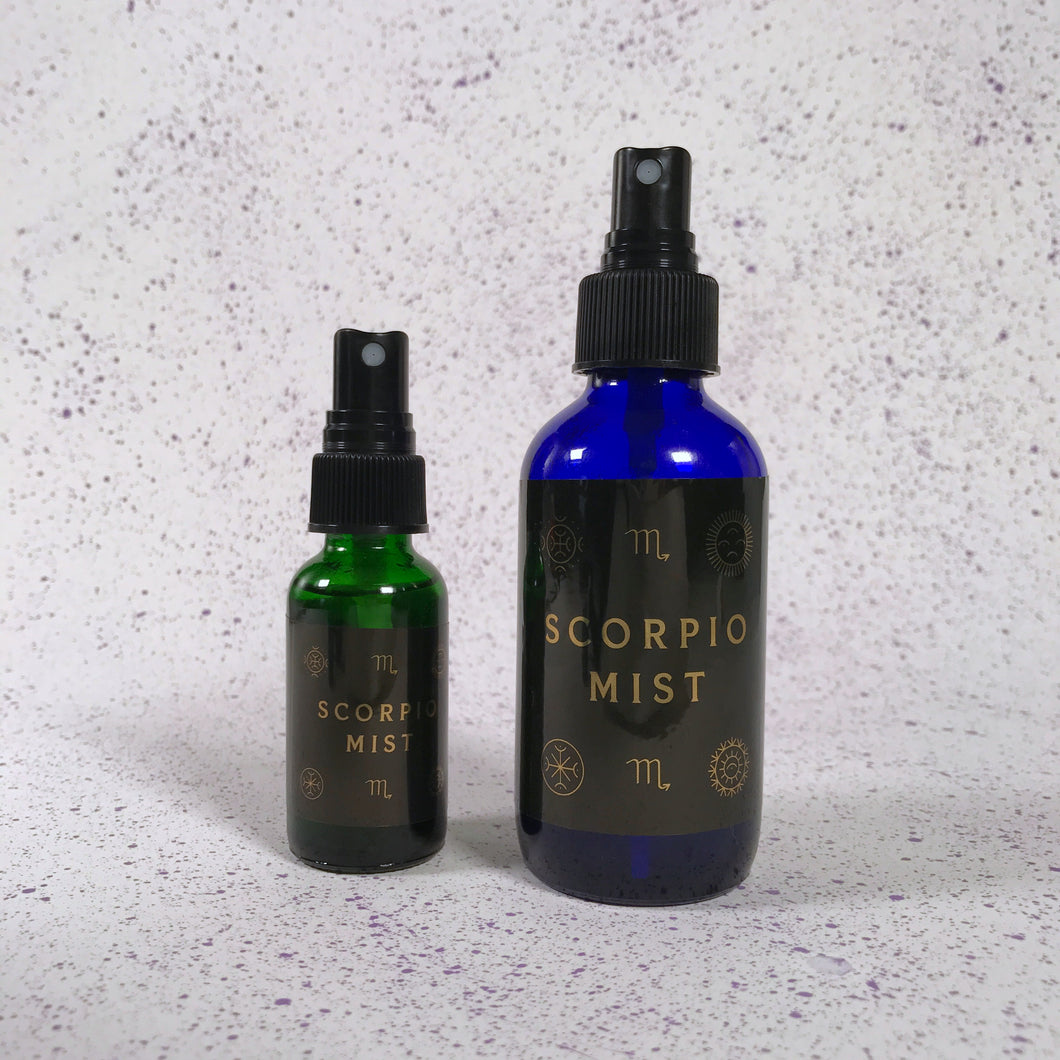 Scorpio Mist
Regular price $12.00 Sale
Scorpio: October 23 - November 21
Use this spray to enhance the aspects of Scorpio or attract its qualities--ambition, bravery, faithfulness, intuition. Also a good spray to use to pursue sexxx, or to work with spirituality or the occult.
Contains: Essential oils of Pine, Myrrh, + Benzoin + Essence of Holly, and Obsidian in Buhl water.
Pine is well known for purification, which works for releasing negative energy. It is also well known for its association with cycles, beginnings, fertility and renewal. It's associated with friendship, desires, longevity, truth and well-being.
Myrrh enhances awareness and focus for divination, past-life and psychic work as well as communicating with spirits. It releases emotional and spiritual blockages, bringing healing, renewal, and transformation. It fosters balance and well-being and aids in confronting problems. It's associated with abundance, growth, longevity and vitality.
Benzoin is a powerful ally for magic. It can increase the rate of success for spells, and is great for attracting money, comfort and success as well as for protection. It is effective for clearing negativity to make way for prosperity. It awakens the mind for inspiration and reaching higher levels of consciousness. 
Holly essence helps change emotions of distrust, anger, hate and revenge, replacing them with an inner harmony and a loving, tolerant and generous nature. It embodies the principle of love and enables you to open your heart to this energy and radiate it out to others.
Obsidian enhances truth and encourages us to grow and lends support while we do so. It's a strongly protective stone, forming a shield against negativity. It brings clarity to the mind and clears confusion and constricting beliefs. It helps you to know who you truly are.
Buhl water is the finest water on the Iron Range, which is in northern Minnesota, on unceded Anishinaabe (Ojibwa) land. It comes from a glacial aquifer located 700 feet deep, encased in 300 feet of solid granite. It is bacteriologically free (the water isn't treated) and contains no chlorination. It has never been contaminated by any of the 42 human-made elements, such as insecticides, pesticides and herbicides.