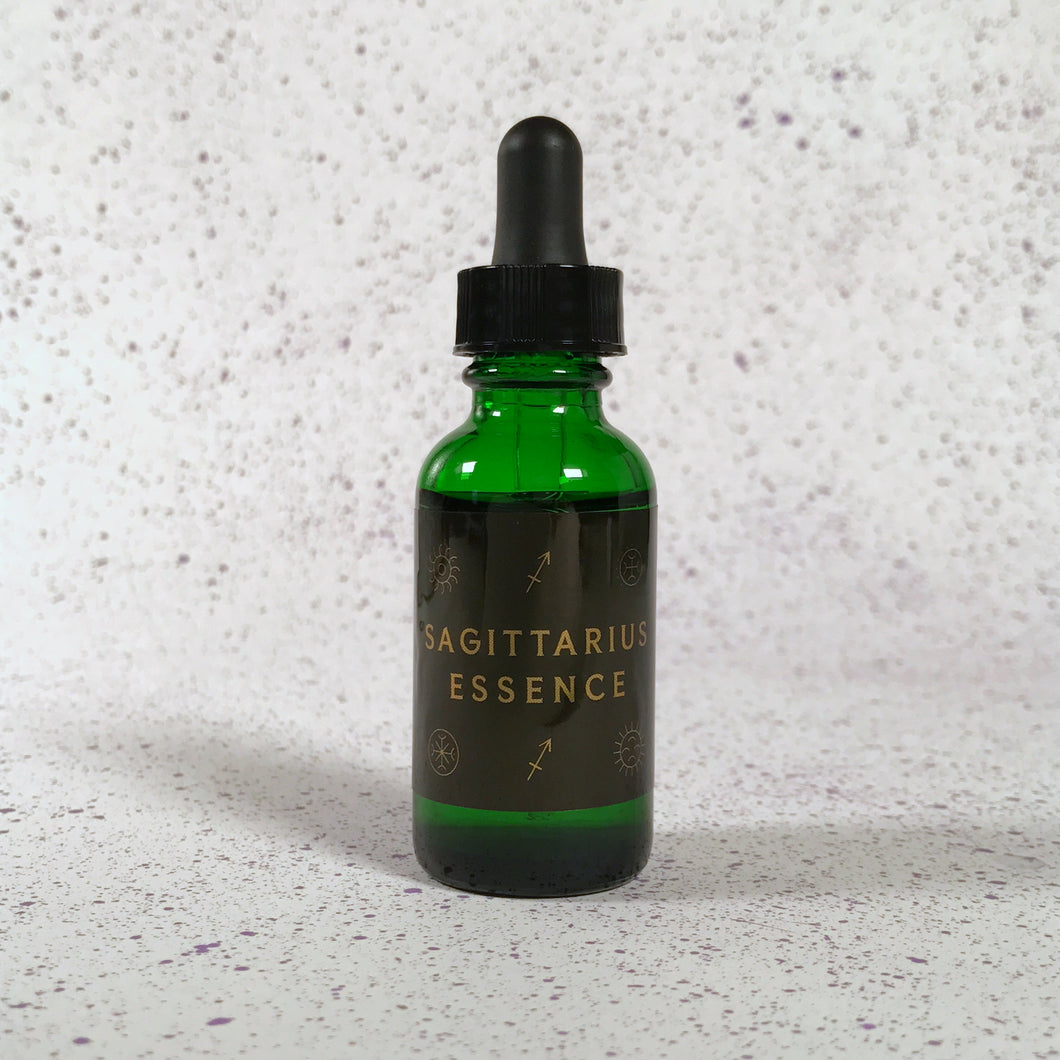 Sagittarius Essence
Regular price $18.00 Sale
An essence that captures and supports Sagittarius vibes. Take this essence when you want to balance and support the qualities of Sagittarius--intellectual, philosophical, adventurous, straight-forward, confident, generous. 
Sagittarius: November 22-December 21
Contains: Essences of agrimony, almond, sapphire, scleranthus, sweet pea, vervain and zinnia in Buhl water, slivovitz and brandy with MN honey.
Agrimony essence enables you to communicate your worries more easily to others and to take yourself more lightly. It makes it easier for you to recognize, integrate and accept all parts of yourself. It provides you with inner strength and calmness to see your problems and worries from a higher perspective, and it also encourages you in your search for peace within.
Almond essence helps with sexual excess or overindulgence in food. It promotes the qualities of moderation and self-discipline. Its balancing energy instils a well-adjusted sexuality.
Sapphire gem essence is a thought-amplifier. It acts on the intellect, bringing inspiration and clarity to your thinking. It motivates and assists you in your search for spiritual enlightenment and helps focus your responsibility and concentrate your purpose in life. It helps you get in touch with the work you were born to do and brings you clarity for direction in your life's purpose. It increases your awareness and helps you to align spiritual responsibilities with your actual physical capabilities. 
Scleranthus essence assists the Sagittarian who is indecisive and restless, inclined to behavior that is changeable and unreliable. If you tend to put off or delay things, this essence restores a sense of balance, increases your determination and provides you with the ability to be decisive. It restores a sense of inner balance and helps you act decisive It also calms restless and unfocused energy.
Sweet pea essence helps you find your place on earth and form bonds and connections with others.
Vervain essence enhances your self-discipline and restraint, lessening your over-exuberant states and any squandering of energy. It helps the fanatical Sagittarian who is passionate about what they believe and insist on convincing others of those beliefs. It encourages the Sagittarian who assumes that their ideas are bets or their beliefs are the only right ones int he direction of permitting others to have their own opinions, without feeling threatened themselves. Helping you to see things from a wider perspective, it encourages openmindedness, so you don't need to impose strong opinions on others. It encourages a balanced manner and enhances your natural warmth and spontaneity, enabling you to give positive encouragement and inspiration to others.
Zinnia essence helps you to remain lighthearted, cheerful and humorous. It restores playfulness, joy and humor if life becomes heavy and serious. 
Buhl water is the finest water on the Iron Range, which is in northern Minnesota, on unceded Anishinaabe (Ojibwa) land. It comes from a glacial aquifer located 700 feet deep, encased in 300 feet of solid granite. It is bacteriologically free (the water isn't treated) and contains no chlorination. It has never been contaminated by any of the 42 human-made elements, such as insecticides, pesticides and herbicides. 
1oz in a glass bottle with dropper. Take drops as needed under your tongue, or in water, or on your skin or on your pillow.