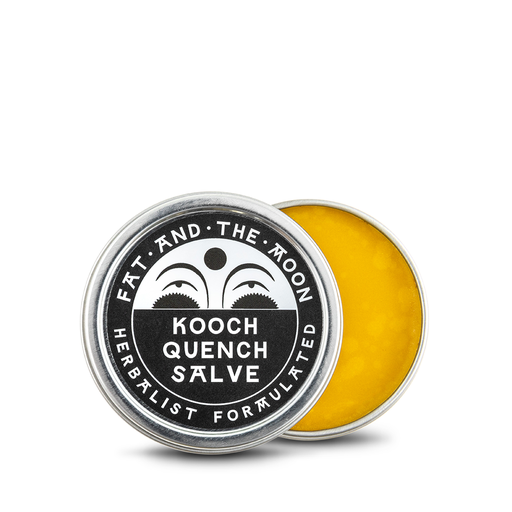 Kooch Quench
Regular price $16.00 Sale
A parched yone is susceptible to all kinds of bummers. Think of the last time you forgot your water bottle in the car. Kooch Quench is a tall glass of ice-cold lemonade for your vagina, in the form of an herbal salve-ation.
Coconut oil infused with chamomile and lavender make for a soothing combo promoting a harmonious environment. If you're post-birth or have hecka yoni dryness, this salve is a great aid.
2 fl oz
RITUAL
To start, warm up a pea-sized amount with *clean hands* and apply to the outer rings of the yone. Heads up! Sea buckthorn oil has the loveliest orange color, and it's partly what packs this plant's medicinal punch. Since it has the potential to stain, you might not want to wear your most expensive white & lacey silk undies when using Kooch Quench. Can be used as a lubricant, but not with condoms or dental dams.
SHELF LIFE
6 months
INGREDIENTS
Calendula (Calendula officinalis)*, Lavender (Lavandula spp.)* and Chamomile (Matricaria spp) or (Chamaemelum nobile)* infused Virgin Coconut Oil (Cocos nucifera)*, Sea Buckthorn Oil (Hippophae rhamnoides)*, Beeswax (Cera alba)

*Organic
^Ethically & Safely Wildcrafted