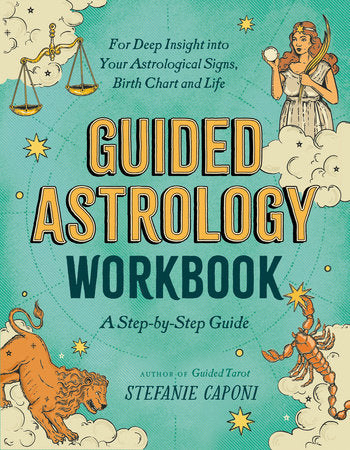 Guided Astrology Workbook: A Step-by-Step Guide for Deep Insight into Your Astrological Signs, Birth Chart, and Life
Regular price $17.99 Sale
Your essential workbook to unlock the wisdom of the stars and understand astrology and your birth chart.

Your birth chart is a snapshot of the positions of the planets at the moment you were born. It reveals your unique self: your gifts, your challenges, and your opportunities. Guided Astrology Workbook explains the essential facets of astrology and includes interactive exercises to help you break down the detailed information in your birth chart. Best-selling author Stefanie Caponi guides you step-by-step as you learn to interpret seemingly complex astrological information with ease. With the language of astrology and your birth chart as your roadmap, you'll understand the role of the stars in your personality, life, and relationships, so that you can live with greater insight and intuition—and achieve your highest potential. 


Step-by-step guidance

 

to help you expand your understanding of astrology as you learn to read and interpret birth charts. 
Plot and read your birth chart

 

as you work through each chapter, adding your sun signs, rising signs, moon signs, and more, to help you understand your personality and how you engage your inner and outer worlds. 
Interactive exercises and reflection questions

 

that help you to engage the zodiac wheel in a personal way and helps you understand the role of every placement. 
Understand astrological patterns

 

to add depth to your birth chart interpretation and make connections with other people's charts.  
For astrologers of all skill levels

 

to cultivate a better understanding of the role of the houses, planets, and aspects in our lives and relationships.
 Paperback. 192 pages.