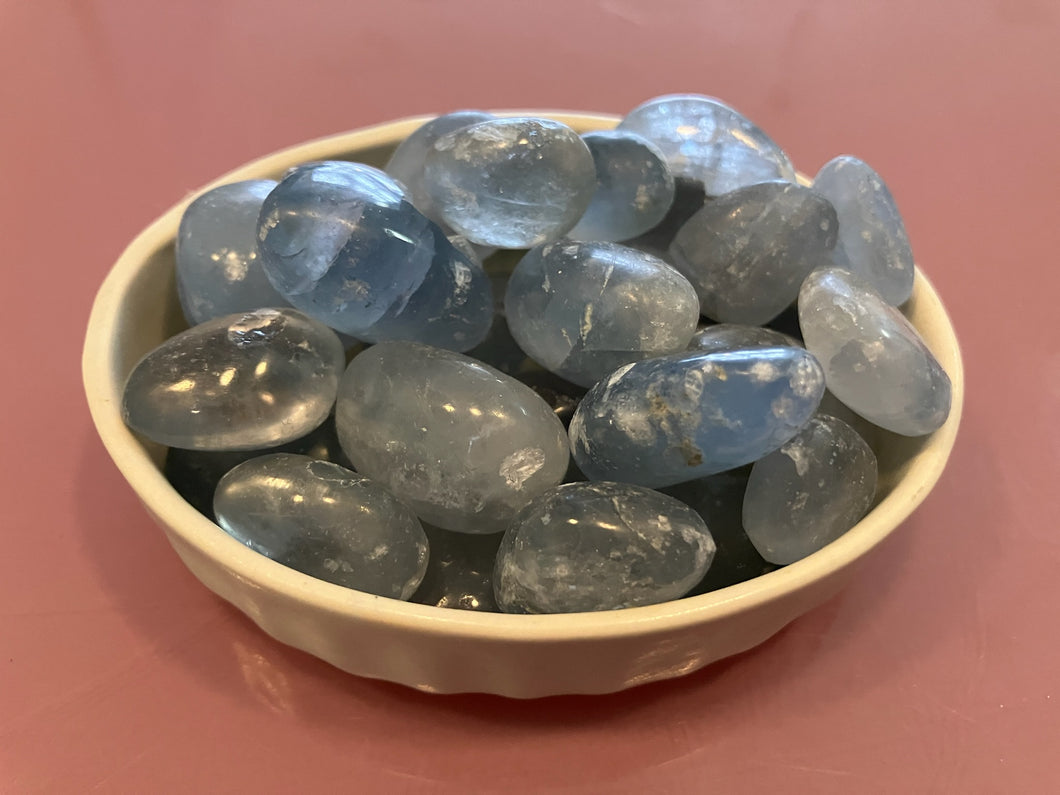 Celestite tumbled
"Celestite has a high vibration and is a teacher for the New Age. It is imbues with divine energies. It takes you into the infinite peace of the spiritual and contacts the angelic realms. It jump-starts spiritual development and urges you toward enlightenment. It is a useful stone for stimulating clairvoyant communication, dream recall, and journeys out of the body. Celestite promotes purity of the heart and attracts good fortune. It reveals truth. It is a stone that brings balance and alignment. The deep peace it holds assists in conflict resolution and in maintaining a harmonious atmosphere in times of stress. Celestite can improve dysfunctional relationships by opening a space for peaceful negotiation. 
Celestite is a creative stone, especially useful for the arts.
Celestite imparts gentle strength and enormous inner peace despite urging toward greater openness to new experiences. It is a teacher of trust in the infinite wisdom of the divine. With its calming effect, Celestite can cool fiery emotions.
Celestite calms and sharpens the mind, dispersing worries and promoting mental clarity and fluent communication. It aids the analysis of complex ideas. This stone synthesizes intellect with instinct and promotes mental balance.
Celestite opens a connection to the universal energies. It brings a vision of peaceful coexistence with the whole of creation and holds the possibility of total harmony."-Judy Hall's Crystal Bible
Price is per stone. Made by the earth, so each piece is different.
Zodiac Sign: Gemini
Planet: Venus + Neptune