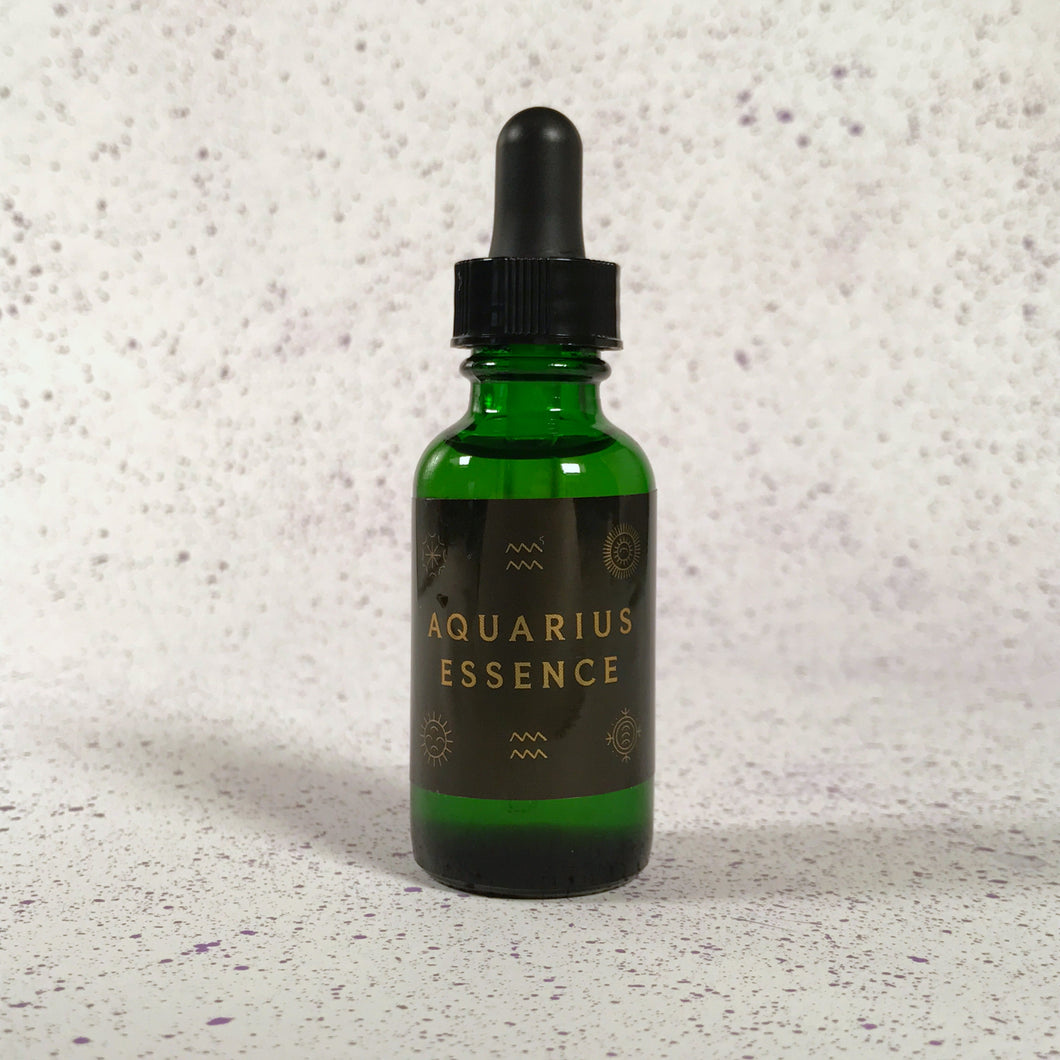 Aquarius Essence
Regular price $18.00 Sale
An essence that captures and supports Aquarius vibes. Take this essence when you want to balance and support the qualities of Aquarius--originality, spontaneity, friendliness, loyalty, psychic ability in groups, community, humanitarianism. This might even enhance your social skills.
Aquarius: January 20-February 18
Contains: Essences of Evening Primrose, Nasturtium, Jasmine, Buttercup, Impatiens, Quaking Grass and Single Delight in Buhl water, slivovitz and brandy with MN honey.
Evening Primrose essence encourages those who are remote in emotional issues or reluctant to commit, to open up or to be able to form lasting relationships. It helps to heal feelings of rejection or alienation from others and inadequate nurturing.
Nasturtium essence restores vitality if you find that intense mental focus exhausts you. It grounds people who work mainly in their heads. 
Jasmine essence promotes a different perspective on life, where diplomacy replaces opposition and conflict. It dissolves feelings of isolation and alienation, giving way to a peaceful and orderly acceptance of your environment.
Buttercup essence is ideal for the unconventional person who may not acknowledge their unusualness or originality. It helps you recognize and accept your own uniqueness by relieving the need to judge yourself against the conventional benchmarks of achievement and success.
Impatiens essence assists you to stand by the convictions of your heart regardless of whether you are supported by other or not. It sustains you if you feel like the odd one out. It brings inner strength and endurance if you face opposition, obstacles or extra struggle because of your stance on life. 
Quaking Grass essence increases your social consciousness and encourages you to find your identity through associations or in group work. It helps to balance your own needs with those of others.
Single Delight essence brings about a state of lightness. If you feel separate or disconnected from others, it creates a feeling of connection with all living things. It is useful if you enter a period of heaviness and find it difficult to raise your head up. It heals by lifting your spirits to be aware of the light that surrounds you and it increases awareness of your connection with all living things. 
Buhl water is the finest water on the Iron Range, which is in northern Minnesota, on unceded Anishinaabe (Ojibwa) land. It comes from a glacial aquifer located 700 feet deep, encased in 300 feet of solid granite. It is bacteriologically free (the water isn't treated) and contains no chlorination. It has never been contaminated by any of the 42 human-made elements, such as insecticides, pesticides and herbicides. 
1oz in a glass bottle with dropper. Take drops as needed under your tongue, or in water, or on your skin or on your pillow.