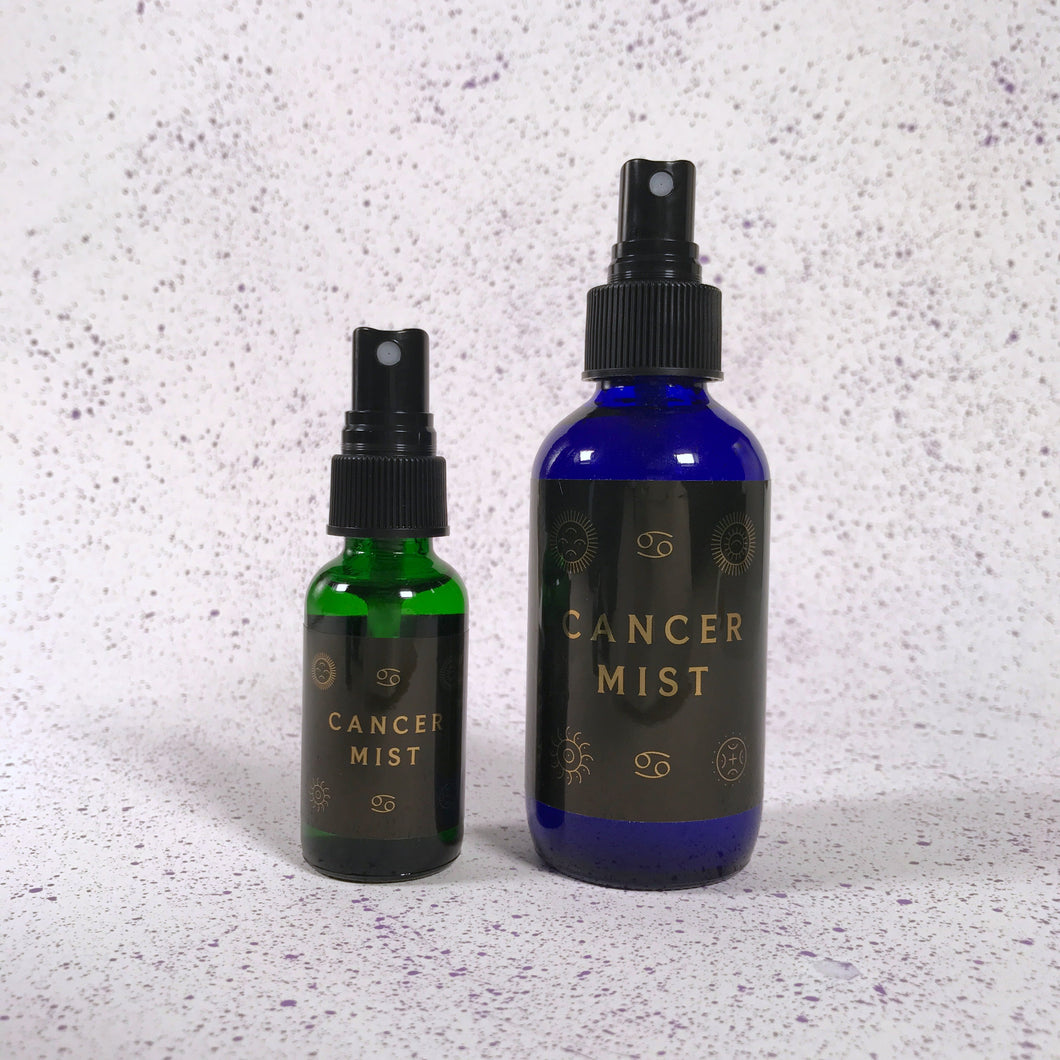 Cancer Mist
Regular price $12.00 Sale
Cancer: June 21-July 22.
Use this spray to enhance the aspects of Cancer or attract its qualities--humor, success in business, entrepreneurship, creativity, protectiveness, emotional.
Contains essential oils of Pine, Chamomile, and Hyssop + Yarrow, + Essence of Honeysuckle + Rose Quartz in Buhl water.
Pine is well known for purification, which works for releasing negative energy. It is also well known for its association with cycles, beginnings, fertility and renewal. It's associated with friendship, desires, longevity, truth and well-being.
Chamomile is well known for emotional and physical healing. It brings clarity and success in communication. It stimulates creativity, intuition, and helps manifest desires. It's associated with abundance, control, fertility and sexuality.
Hyssop clears away negative energy and supports psychic work and helps to develop divination skills. It engenders clarity of mind for finding one's purpose. It's instrumental in manifesting change, enhances creativity, and inspires personal growth. It's also associated with fertility, hope, sexuality and vitality.
Yarrow provides psychic and spiritual protection and provides the confidence to tackle big problems as well as spiritual issues. It is associated with abundance, beauty, beginnings, changes, fertility and luck.
Honeysuckle essence is for people that hold on to the past, regret missed opportunities, or believe that life was better in the past. It shifts the past into place and encourages embracing the present. It heals homesickness by dealing with the melancholy and longing for something that isn't available by regenerating interest in what is available now. 
Rose Quartz is the stone of unconditional love and infinite peace. It's the most important crystal for the heart and heart chakra. It purifies and opens the heart at all levels, and brings deep inner healing and self-love. It is calming, reassuring, and excellent for use in trauma or crisis.
Buhl water is the finest water on the Iron Range, which is in northern Minnesota, on unceded Anishinaabe (Ojibwa) land. It comes from a glacial aquifer located 700 feet deep, encased in 300 feet of solid granite. It is bacteriologically free (the water isn't treated) and contains no chlorination. It has never been contaminated by any of the 42 human-made elements, such as insecticides, pesticides and herbicides.