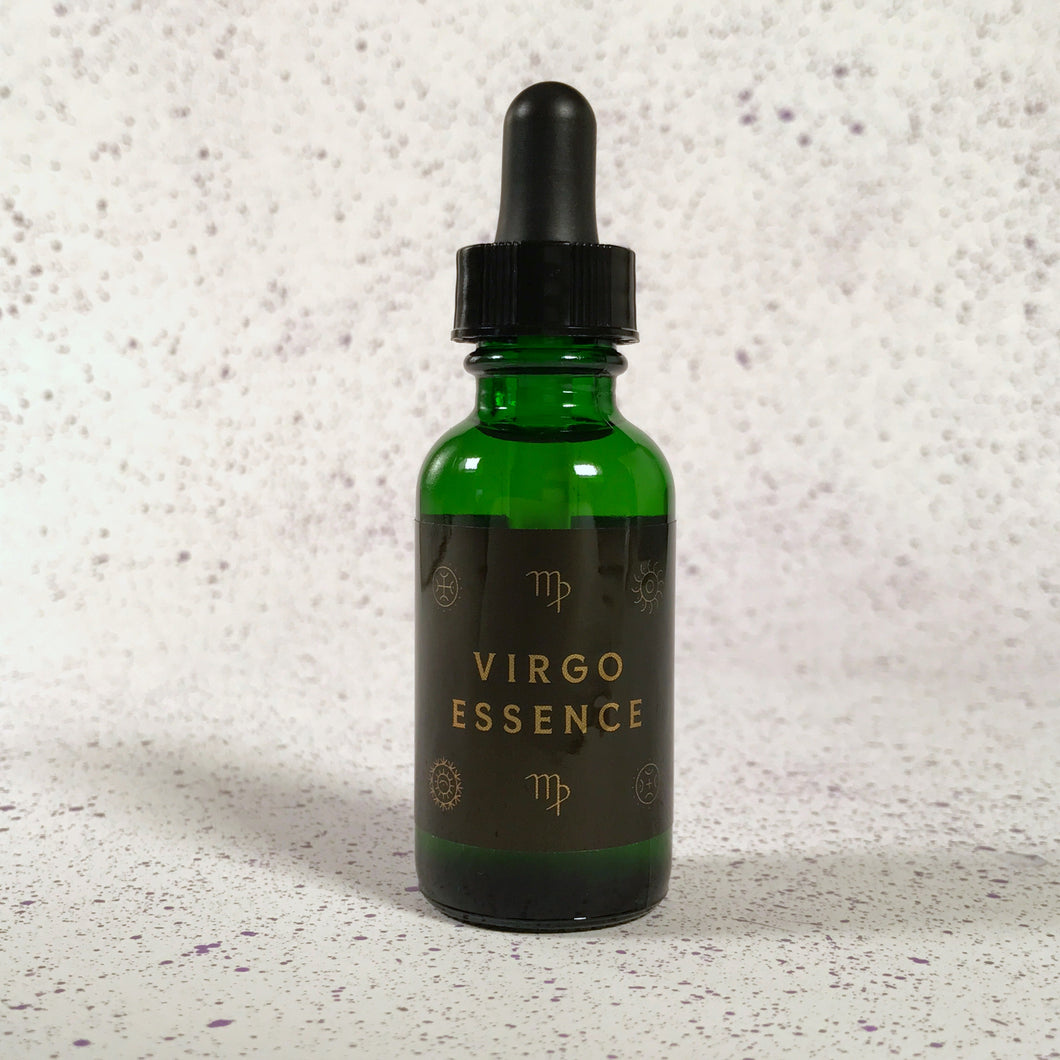 Virgo Essence
Regular price $18.00 Sale
An essence that captures and supports Virgo vibes. Take this essence when you want to balance and support the qualities of Virgo--perfection, meticulousness, eloquence, analytical, and to up your powers while working.
Virgo: August 23-September 22
Contains: Essences of centaury, sapphire, dill, filaree, blackberry, pine and rock water in Buhl water, slivovitz and brandy with MN honey.
Centaury essence increases individuality and willpower, allowing you to put how much you do for others and give to others in context with your own needs. It reinforces your relationship between willpower and self-determination, so your desire to serve is never to your detriment. It instils wisdom, so awareness of your own individuality and convictions is strong. This essence helps you not lose sight of your own mission in life by creating a better balance between others and your own needs. It gives you the power to be your own person and to follow your own inner mission, while still giving service to others in a balanced manner. It encourages your powers of discrimination, allowing you to say no to others when necessary.
Sapphire gem essence helps you get in touch with the work you are here to do and brings clarity of direction in your life and your destiny. Helping you align your spiritual responsibilities with your actual physical capabilities, its supportive energy raises awareness and commitment to your highest purpose.
Dill essence can change the power balance in relationships and assist in re-establishing your power if you have given it away to another. It infuses you with an increased sense of personal power that is noticed by others, resulting in a shift in how you are perceived and treated. 
Filaree essence provides an expanded view. It assists in viewing daily events and concerns more objectively, which contributes to the effect of reducing tension and anxiety.
Blackberry essence's positive qualities provide an understanding on life that is objective, rather than narrow and picky. It facilitates an open, clear mind so that you can see things as they really are. Replacing any negative or critical thoughts with optimism and the ability to see good in yourself and others, it also encourages you to swap clouded thinking for impartiality and the ability to discriminate fairly. Its uplifting qualities elevate your thoughts and increase your sense of humor. This essence bestows a sense of purity of thought at those times when the Virgo mind might otherwise be closed, judgmental or critical. 
Pine essence instils a healthy acceptance of and respect for yourself, in which you see yourself realistically and as fully deserving. 
Rock water essence loosens up and frees you from excessive self-discipline, perfectionism or denial of your needs. Encouraging an open mind and a flexible attitude, this essence enables you to enjoy yourself more and take pleasure in life.
Buhl water is the finest water on the Iron Range, which is in northern Minnesota, on unceded Anishinaabe (Ojibwa) land. It comes from a glacial aquifer located 700 feet deep, encased in 300 feet of solid granite. It is bacteriologically free (the water isn't treated) and contains no chlorination. It has never been contaminated by any of the 42 human-made elements, such as insecticides, pesticides and herbicides. 
1oz in a glass bottle with dropper. Take drops as needed under your tongue, or in water, or on your skin or on your pillow.