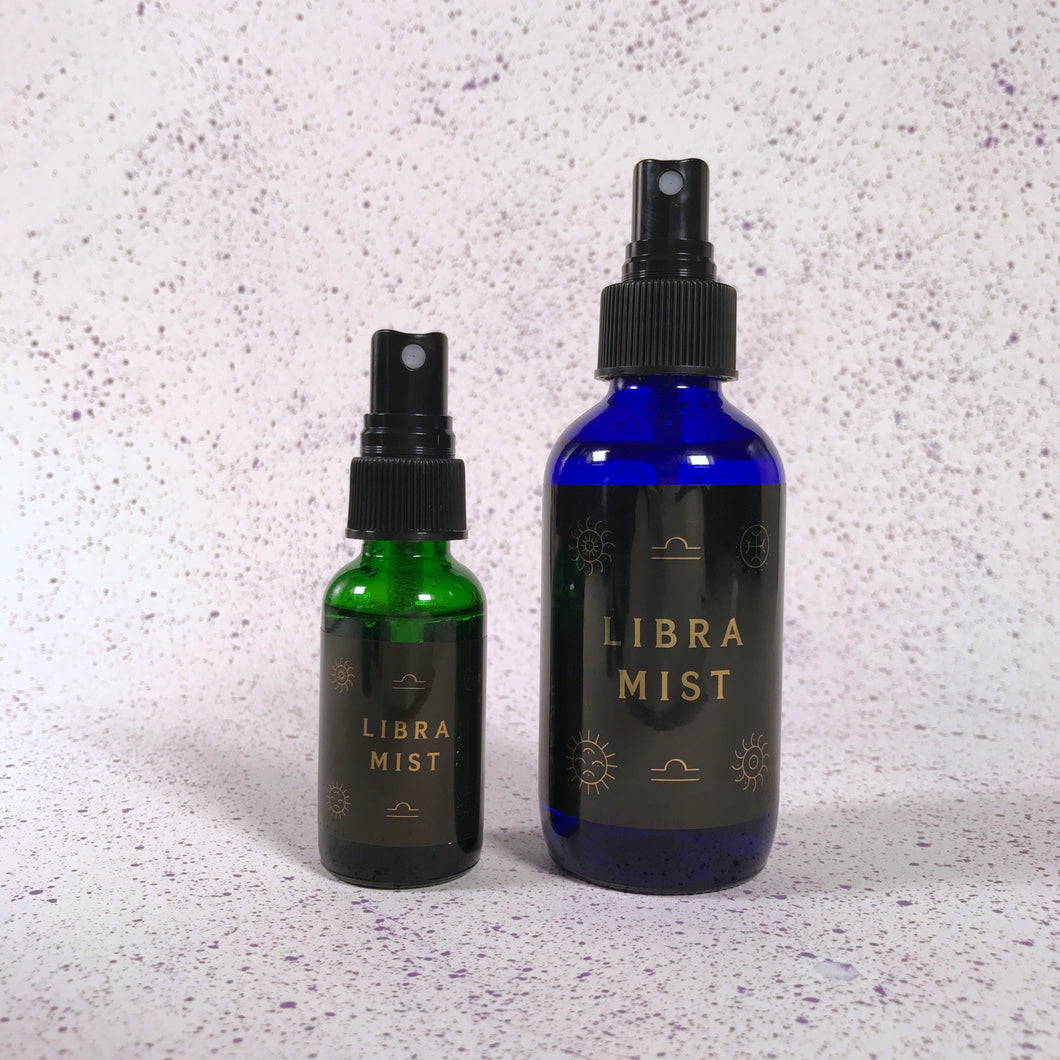 Libra Mist
Regular price $11.00 Sale
Libra: September 23 - October 22
Use this spray to enhance the aspects of Libra or attract its qualities--romantic, tactfulness, charming, diplomatic, balanced, good at communicating, and a love for beauty.

Contains: Essential oils of Vetiver and Rose + Essence of Scleranthus, + Lapis in Buhl water.
Vetiver amplifies connection with the earth helping to ground and center energy. It's a source of stability and strength for dealing with problems as well as emotional turmoil. It supports spiritual development and promotes balance between the spiritual and mundane. It is associated with longevity and secrets.
Rose attracts love, heightens desire and passion, and brings inspiration and wisdom. Its healing energy brings happiness, friendship, and luck. It's a powerful aid in divination, otherworld contact, and encourages prophetic dreams. It's associated with confidence, courage, creativity, power, self and strength.
Scleranthus essence restores equilibrium and helps find your true inner rhythm. It encourages a state of calmness and certainty. It enables you to concentrate your energies, y et at the same time remain flexible and adaptable. It can empower you to consider all possibilities yet make decisions wisely. Restoring a sense of inner balance, it helps you to act decisively and calms changeable, restless and unfocused energy.
Lapis opens the third eye and stimulates enlightenment and enhances dream work and psychic abilities., facilitating spiritual journeying and stimulating personal and spiritual power. It quickly releases stress and brings deep peace. It encourages taking charge of life and reveals inner truth, encourages self-awareness and allows self-expression without holding back or compromising.
Buhl water
 is the finest water on the Iron Range, which is in northern Minnesota, on unceded Anishinaabe (Ojibwa) land. It comes from a glacial aquifer located 700 feet deep, encased in 300 feet of solid granite. It is bacteriologically free (the water isn't treated) and contains no chlorination. It has never been contaminated by any of the 42 human-made elements, such as insecticides, pesticides and herbicides.