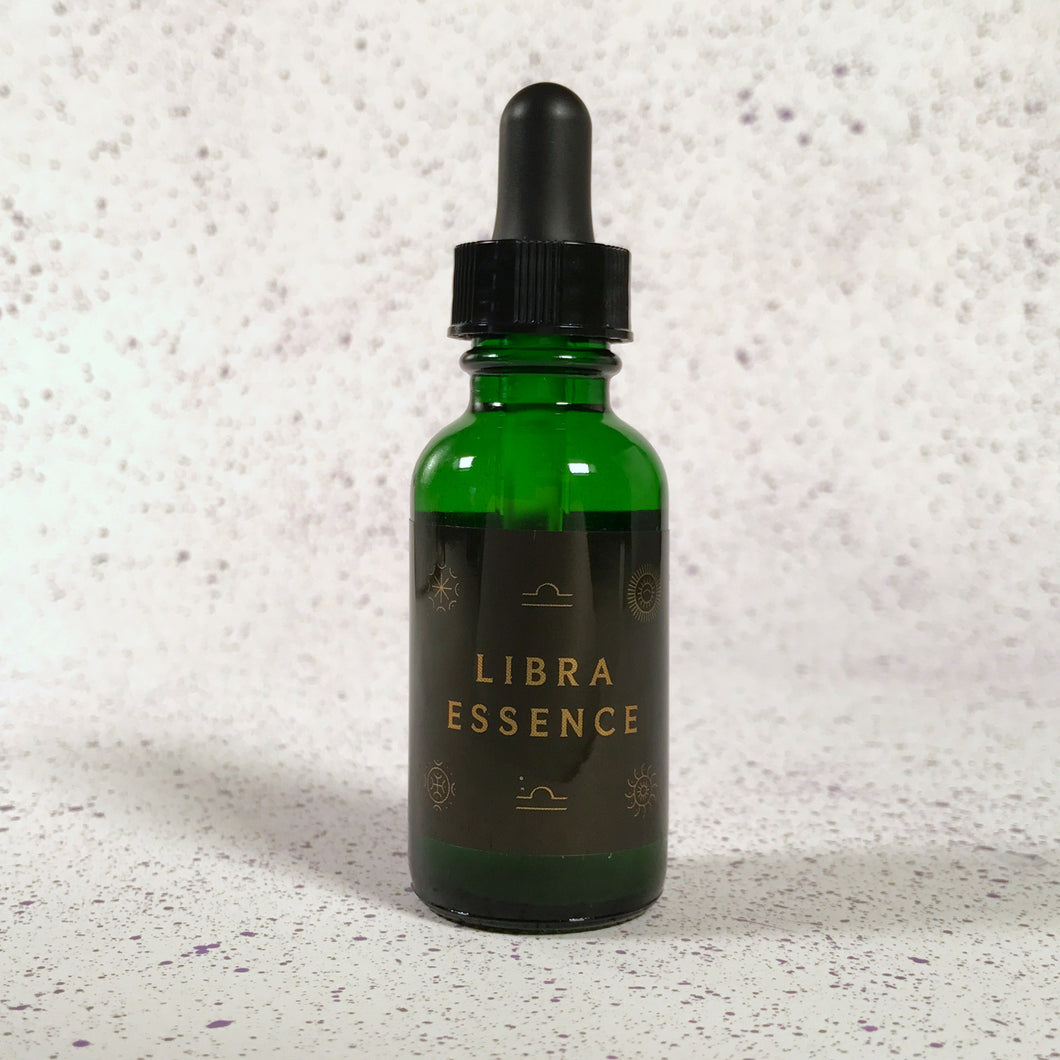 Libra Essence
Regular price $18.00 Sale
An essence that captures and supports Libra vibes. Take this essence when you want to balance and support the qualities of Libra--romantic, tactfulness, charming, diplomatic, balanced, good at communicating, and a love for beauty. 
Libra: September 23-October 22
Contains: Essences of Easter lily, hematite, monkey flower, impatiens, raspberry, scleranthus and strawberry in Buhl water, slivovitz and brandy with MN honey.
Easter lily essence promotes truth, purity, integrity and honesty. It helps to express your true being. If you are the type of Libran who can sometimes be flippant or superficial, this essence inspires your respect for others.
Hematite gem essence provides emotional protection by reinforcing your energetic boundary, which is necessary if you're the Libran who can consider the other person too much. This essence strengthens, so you do not easily get drawn into others' issues, and through it you are able to maintain your own individuality and independence within a relationship.  
Monkey flower essence promotes self-assurance and assertiveness. It helps empower you in order that you manifest your inner convictions. Replacing apprehension or hesitancy with purpose and surety, this essence helps you to express yourself and to act in accordance with your true self.
Impatiens essence encourages you to have the courage to stand by your own beliefs and the determination to do whatever you feel is right. It brings strength in the face of feeling overwhelmed, unsupported or when dealing with challenges.
Raspberry essence helps transform harmful or negative emotions by infusing wisdom and increased understanding. It reduces over-reaction. 
Scleranthus essence restores equilibrium and helps find your true inner rhythm. It encourages a state of calmness and certainty. It enables you to concentrate your energies, y et at the same time remain flexible and adaptable. It can empower you to consider all possibilities yet make decisions wisely. Restoring a sense of inner balance, it helps you to act decisively and calms changeable, restless and unfocused energy.
Strawberry essence is centering and decisive. It links well with Libran attitudes. It boosts your sense of self-worth, so that you do not have to look to others for approval. It enhances the ability to handle all relationship difficulties, and is helpful in transitions, such as when you are dealing with a breakup. 
Buhl water is the finest water on the Iron Range, which is in northern Minnesota, on unceded Anishinaabe (Ojibwa) land. It comes from a glacial aquifer located 700 feet deep, encased in 300 feet of solid granite. It is bacteriologically free (the water isn't treated) and contains no chlorination. It has never been contaminated by any of the 42 human-made elements, such as insecticides, pesticides and herbicides. 
1oz in a glass bottle with dropper. Take drops as needed under your tongue, or in water, or on your skin or on your pillow.