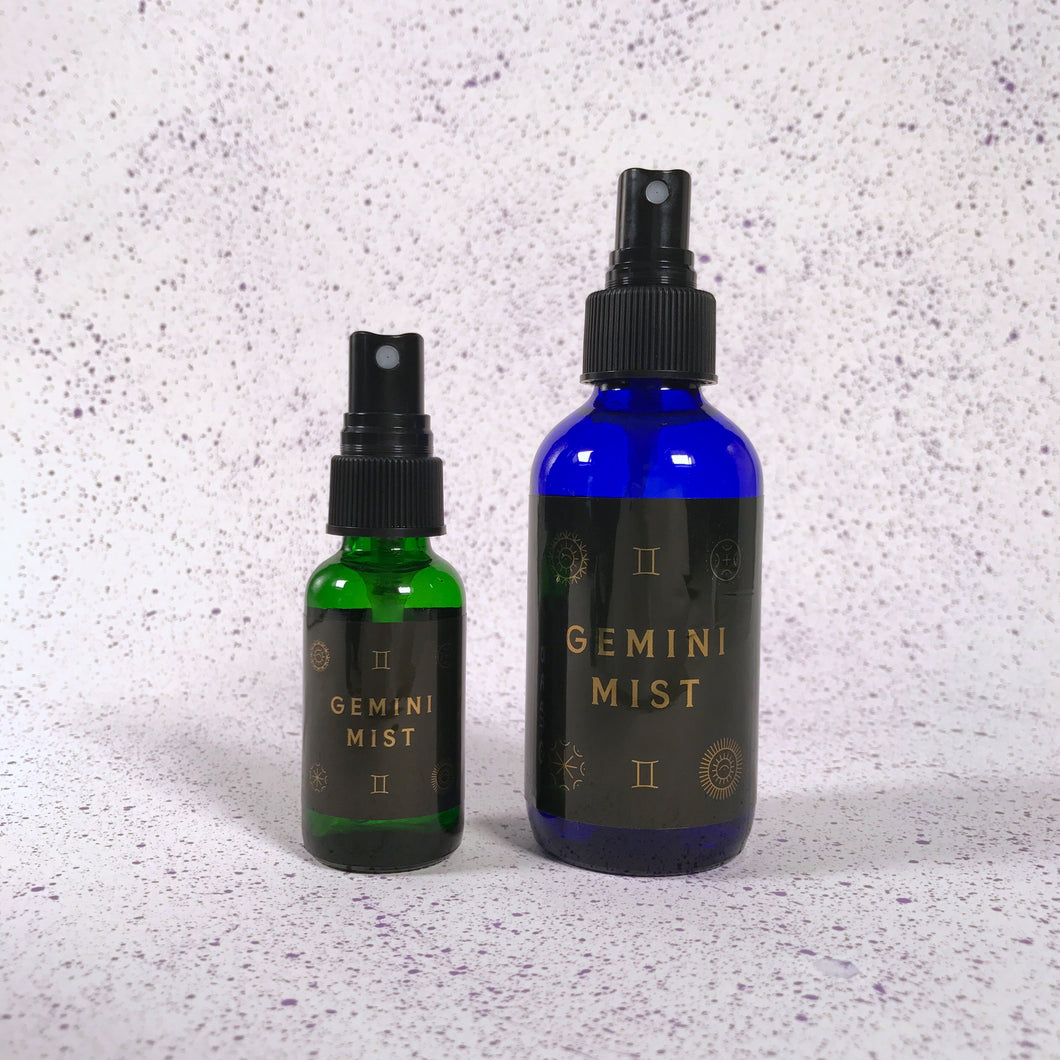 Gemini Mist
Regular price $12.00 Sale
Use this spray to enhance the aspects of Gemini or attract its qualities--energy, ideas, learning, flirtatiousness, helps in dealing with family members, communication, wit and versatility.
Contains essential oils of: Lavender, and Peppermint, + Lemongrass, + Essence of Lettuce, and + Quartz in Buhl water.
Lavender enhances awareness and intuition, fosters concentration for clarity and inspiration in divination, contact with spirits, and communication in general. Lavender is associated with beauty and love and promotes balance and peace in all types of relationships. It provides strength and inspiration. Lavender is associated with courage, creativity, fertility, longevity and secrets.
Peppermint stimulates the mind, brings clarity and focus, promotes inspiration and creativity. It increases psychic awareness and is associated with beauty, changes, fertility, and increasing vitality.
Lemongrass brings clarity to prepare for divination and psychic work. It aids in contacting spirits and supports clairvoyance. It helps to open the gates of intuition and is associated with lust, passion, fidelity and vitality.
Lettuce essence helps create inner certainty. It replaces nervousness and excitability with patience and tolerance, and helps encourages calm, clear, concentrated thoughts. It teaches steadiness and tranquility. It brings concentration and decisiveness, and enhances Gemini's communicative abilities by ensuring they express themselves in a clear, sure manner. It allows for a better balance in interpersonal relationships as it allows impatience to give way to patience and tolerance for others.
Quartz is the most powerful healing and energy amplifier on the planet. It absorbs, stores, releases, and regulates energy and is excellent for unblocking it. It raises energy to the highest possible level. Containing every color possible, it works on all levels of being. It enhances psychic abilities and attunes you to your spiritual purpose.
Buhl water is the finest water on the Iron Range, which is in northern Minnesota, on unceded Anishinaabe (Ojibwa) land. It comes from a glacial aquifer located 700 feet deep, encased in 300 feet of solid granite. It is bacteriologically free (the water isn't treated) and contains no chlorination. It has never been contaminated by any of the 42 human-made elements, such as insecticides, pesticides and herbicides.