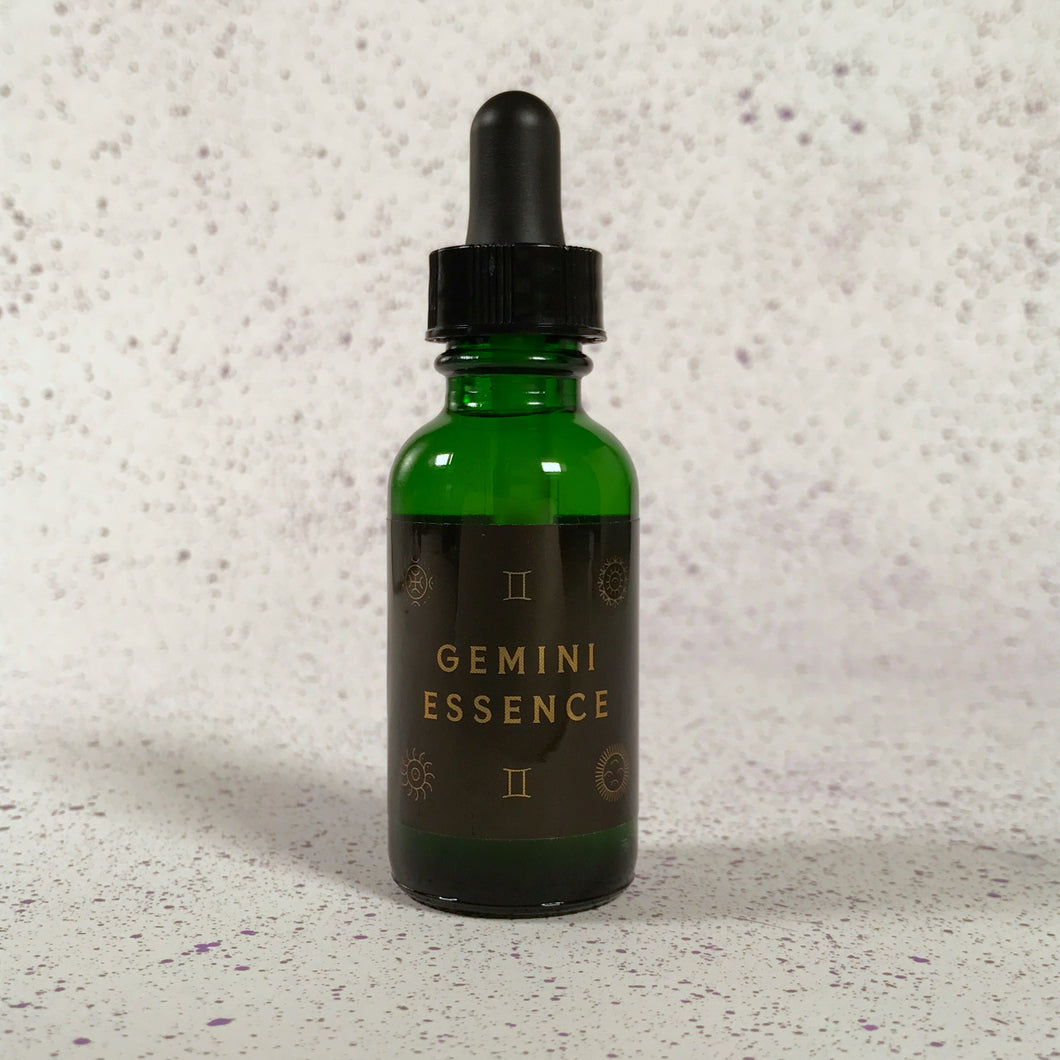 Gemini Essence
Regular price $18.00 Sale
An essence that captures Gemini vibes. Take this essence when you want to balance and support the qualities of Gemini--energy, ideas, learning, flirtatiousness, dealing with family members, communication, wit and versatility.
Contains: Essences of aquamarine, lettuce, polar ice, shasta daisy, cerato, Easter lily and mallow in Buhl water, slivovitz and brandy with MN honey.

Aquamarine gem essence assists in achieving a peaceful meditative state. It creates a clear receptive mind free of repetitive thoughts and overstimulation. 
Lettuce essence helps create inner certainty. It replaces nervousness and excitability with patience and tolerance, and helps encourages calm, clear, concentrated thoughts. It teaches steadiness and tranquility. It brings concentration and decisiveness, and enhances Gemini's communicative abilities by ensuring they express themselves in a clear, sure manner. It allows for a better balance in interpersonal relationships as it allows impatience to give way to patience and tolerance for others.
Polar ice environmental essence brings about a quality of stillness. It reflects the environment and conditions near the North Pole, where the essence is made--remote, without distractions, invoking feelings of time standing still.
Shasta daisy essence helps the mind incorporate separate areas of knowledge and information perceived from an analytical perspective into a more complete and integrated whole. It assists Geminis in their mental work and helps an overall picture emerge.
Cerato essence brings certainty and concentration to the Gemini mind, so they believe in their inner guidance rather than trying to find assurance from others. It helps your inner sense grow, allowing you to get in touch with your own intuition. 
Easter lily essence invites in truth, integrity and honesty. It is about expressing your true being without having to play a role or put on a mask. It helps Geminis that are sometimes superficial or flighty, inspiring respect in your dealings with others.
Mallow essence unites the mind with the intuition, enabling thinking to be guided from the heart. It also addresses repetitive thoughts and being too much in the head.
Buhl water is the finest water on the Iron Range, which is in northern Minnesota, on unceded Anishinaabe (Ojibwa) land. It comes from a glacial aquifer located 700 feet deep, encased in 300 feet of solid granite. It is bacteriologically free (the water isn't treated) and contains no chlorination. It has never been contaminated by any of the 42 human-made elements, such as insecticides, pesticides and herbicides. 
1oz in a glass bottle with dropper. Take drops as needed under your tongue, or in water, or on your skin or on your pillow.