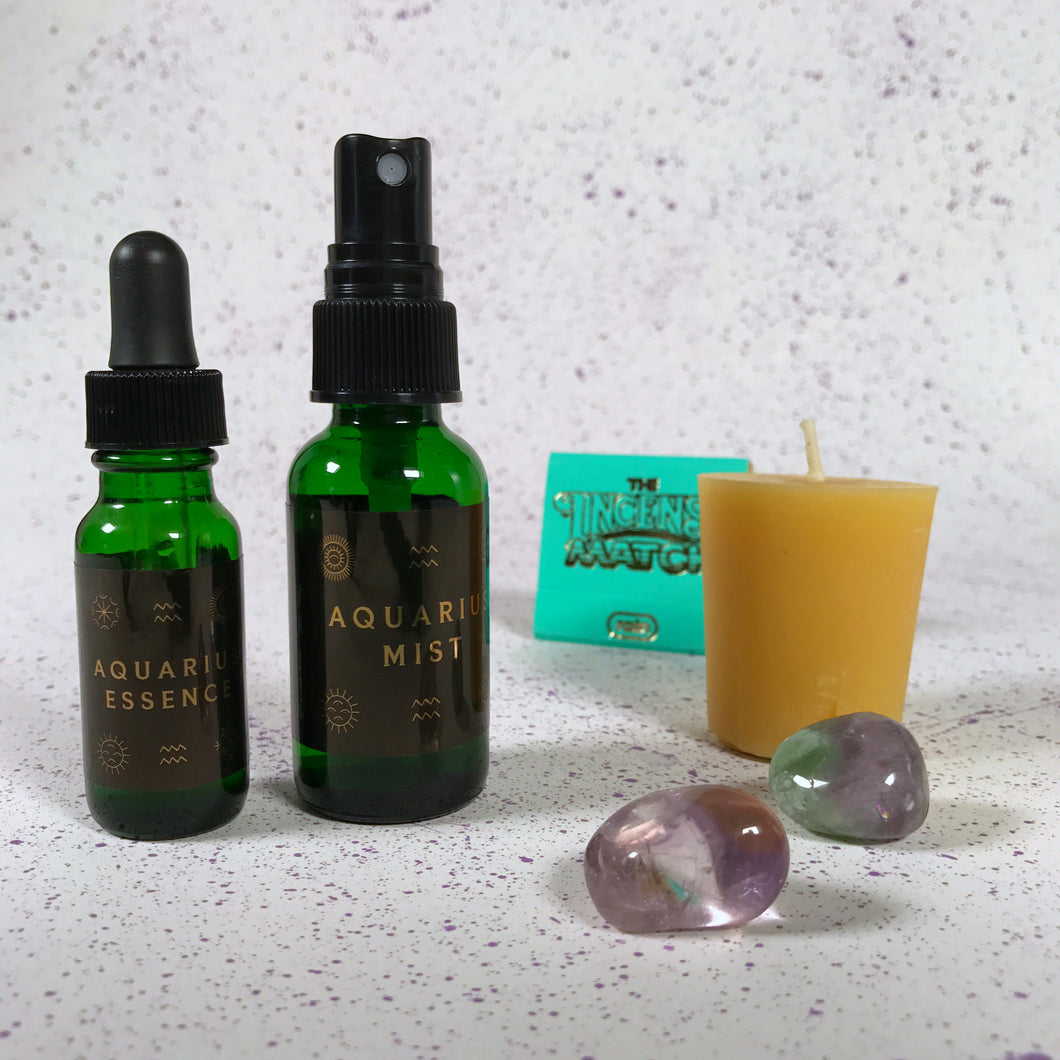 Aquarius Kit
Regular price $33.00 Sale
Aquarius: January 20-February 18
What's in the kit:
✩1 oz Aquarius mist
✩1/2 oz Aquarius essence
✩Tumbled Amethyst
✩Tumbled Fluorite
✩Ames Farm beeswax votive
✩Incense matches
How to use it all:
You can use the mist and essence whenever you need to align with your sign, or are feeling you need some balance. A few ways to use this kit: Print out your chart, and place the candle in the middle, and the crystals on your Sun + Moon, charge your crystals on your altar when the Sun or Moon are in your sign and carry them with you, or if you pay attention to the planetary transits affecting your chart, you can use this kit on astrologically significant days in spellwork or intention setting. Or any other way that's calling to you!
Aquarius Mist: Use this mist to enhance the aspects of Aquarius or attract its qualities--originality, spontaneity, friendliness, loyalty, psychic ability in groups, community, humanitarianism. This might even enhance your social skills.
Contains: essential oils of Lavender, Myrrh, Patchouli, Essence of Buttercup and Aquamarine in Buhl water.
Lavender enhances awareness and intuition, fosters concentration for clarity and inspiration in divination, contact with spirits, and communication in general. Lavender is associated with beauty and love and promotes balance and peace in all types of relationships. It provides strength and inspiration. Lavender is associated with courage, creativity, fertility, longevity and secrets.
Myrrh enhances awareness and focus for divination, past-life and psychic work as well as communicating with spirits. It releases emotional and spiritual blockages, bringing healing, renewal, and transformation. It fosters balance and well-being and aids in confronting problems. It's associated with abundance, growth, longevity and vitality.
Patchouli is grounding and enlightening. It aids in transcending boundaries. It's associated with spirituality. It's especially supportive for clairvoyance and divination. It increases lust. Known for engendering happiness, it dispels negativity. It can help manifest your wishes and bring success. It's associated with justice, luck, passion and purpose.
Buttercup essence brings self-esteem and is ideal for the unconventional individual who may not acknowledge their unusualness or originality. It helps to recognize and accept uniqueness by relieving the need to judge yourself against the conventional benchmarks of achievement and success.
Aquamarine is a stone of courage. Its calming energies reduce stress and quiet the mind. It has the power to invoke tolerance of others. It overcomes judgmentalism, gives support to anyone who is overwhelmed by responsibility and encourages taking responsibility for oneself. It can break old, self-defeating programs. It calms the mind, removing extraneous thought, and shapes intuition and opens clairvoyance. 
Buhl water is the finest water on the Iron Range, which is in northern Minnesota, on unceded Anishinaabe (Ojibwa) land. It comes from a glacial aquifer located 700 feet deep, encased in 300 feet of solid granite. It is bacteriologically free (the water isn't treated) and contains no chlorination. It has never been contaminated by any of the 42 human-made elements, such as insecticides, pesticides and herbicides.
Aquarius Essence: An essence that captures and supports Aquarius vibes. Take this essence when you want to balance and support the qualities of Aquarius--originality, spontaneity, friendliness, loyalty, psychic ability in groups, community, humanitarianism. This might even enhance your social skills.
To use: Take 3-8 drops up to 3x a day or as needed. Can be used on your body, bath, on a candle or pillow when the moon or sun is in this sign, or whenever you want to balance out this sign's energy.
Contains: Essences of Evening Primrose, Nasturtium, Jasmine, Buttercup, Impatiens, Quaking Grass and Single Delight in Buhl water, slivovitz and brandy with MN honey.
Evening Primrose essence encourages those who are remote in emotional issues or reluctant to commit, to open up or to be able to form lasting relationships. It helps to heal feelings of rejection or alienation from others and inadequate nurturing.
Nasturtium essence restores vitality if you find that intense mental focus exhausts you. It grounds people who work mainly in their heads. 
Jasmine essence promotes a different perspective on life, where diplomacy replaces opposition and conflict. It dissolves feelings of isolation and alienation, giving way to a peaceful and orderly acceptance of your environment.
Buttercup essence is ideal for the unconventional person who may not acknowledge their unusualness or originality. It helps you recognize and accept your own uniqueness by relieving the need to judge yourself against the conventional benchmarks of achievement and success.
Impatiens essence assists you to stand by the convictions of your heart regardless of whether you are supported by other or not. It sustains you if you feel like the odd one out. It brings inner strength and endurance if you face opposition, obstacles or extra struggle because of your stance on life. 
Quaking Grass essence increases your social consciousness and encourages you to find your identity through associations or in group work. It helps to balance your own needs with those of others.
Single Delight essence brings about a state of lightness. If you feel separate or disconnected from others, it creates a feeling of connection with all living things. It is useful if you enter a period of heaviness and find it difficult to raise your head up. It heals by lifting your spirits to be aware of the light that surrounds you and it increases awareness of your connection with all living things. 
Amethyst is an extremely powerful and protective stone with a high spiritual vibration. It is a natural tranquilizer and enhances higher states of consciousness and meditation. It has strong healing and cleansing powers and enhances spiritual awareness. It's extremely beneficial to the mind, calming or stimulating as appropriate. It balances out highs and lows, promoting emotional centering.
Fluorite is highly protective, especially on a psychic level. It helps to discern when outside influences are at work within yourself and shuts off psychic manipulation and undue mental influence. It grounds and integrates spiritual energies, promotes unbiased impartiality and heightens intuitive powers. It's associated with progress and dissolves fixed patterns of behavior and opens the door to the subconscious. 
Votive candle: This natural beeswax candle burns brighter and cleaner than soy or paraffin. Beeswax emits negative ions when burned and these bond with positively charged ions of dirt, soot, and other airborne particulates—the effect is to act as a natural air cleaner. This beeswax candle will burn toxin free for 18 hours and fits most standard votive holders. This candle is intended for use only in a votive holder and is not to be burned as a free standing candle. Made in Watertown, MN.