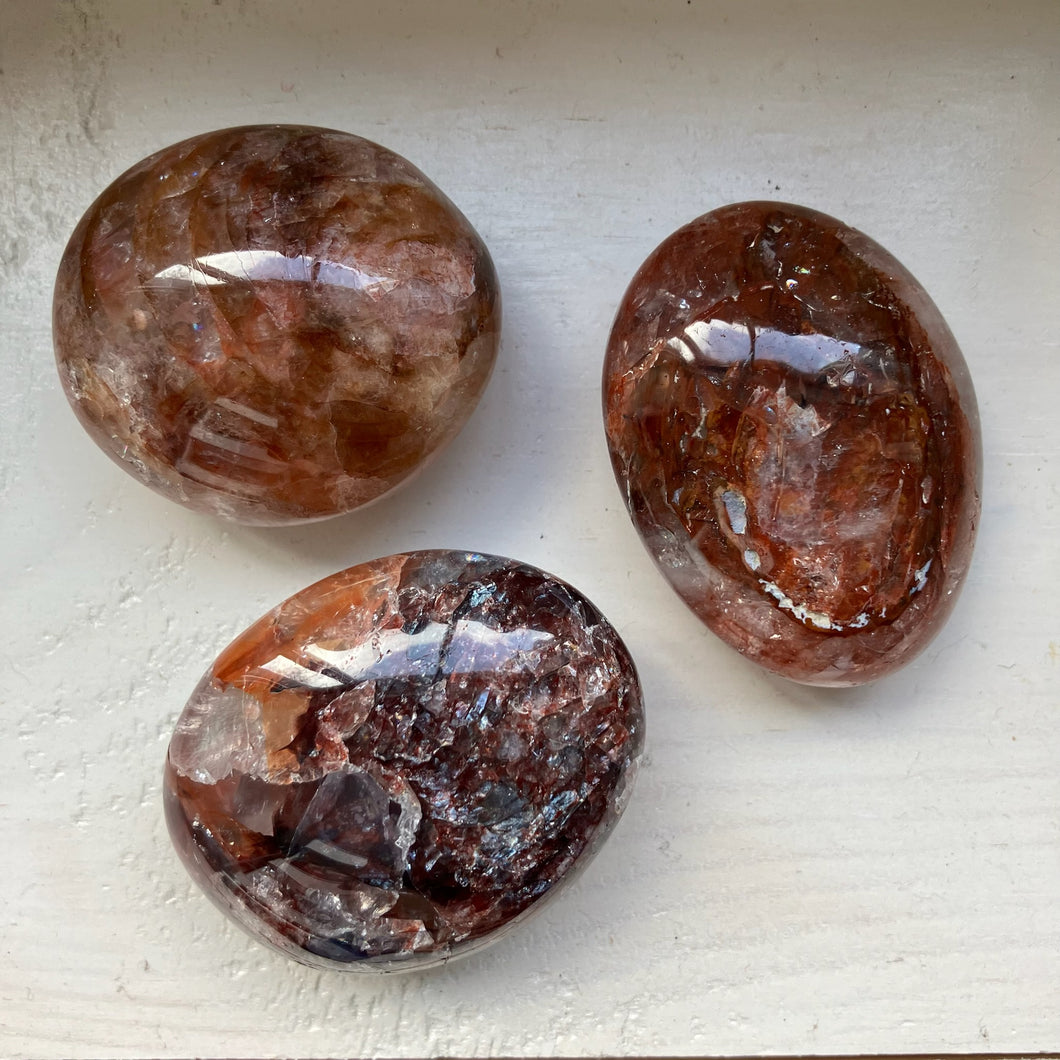 Hematoid Quartz Palmstone
Hematoid quartz is a quartz with hematite inclusions.
"Quartz is the most powerful healing and energy amplifier on the planet because of its unique helical spiral crystalline form. It absorbs, stores, releases, and regulates energy and is excellent for unblocking it. 
This crystal raises energy to the highest possible level. Containing every color possible, Clear Quartz works on all levels of being. Storing information like a natural computer, these crystals are a spiritual library waiting to be accessed. It enhances psychic abilities and attunes you to your spiritual purpose. Used in meditation, Quartz filters out distractions.
Hematite is particularly effective at grounding and protecting. It harmonizes mind, body, and spirit. Used during out-of-body journeying, it protects the soul and grounds it back into the body. This stone has a strong yang element and balances the meridians, redressing yin imbalances. It dissolves negativity and prevents negative energies from entering the aura, restoring peace and harmony to the body. 
Hematite is said to be beneficial for legal situations.
Hematite boosts self-esteem, enhances willpower and reliability, and imparts confidence. This stone removes self-limitations and aids expansion. It is a useful stone for overcoming compulsions and addictions. It treats overeating, smoking, and any form of overindulgence. Hematite helps you to come to terms with mistakes and to accept them as learning experiences rather than disasters.
Hematite stimulates concentration and focus. It enhances memory and original thought. It brings the mind's attention to basic survival needs and helps to sort out problems of all kinds. This is a useful stone for the study of mathematics and technical subjects."
-Judy Hall's Crystal Bible
Price is per stone. Made by the earth, so each piece is different.